In Partnership With Ezra International
Rescuing and Restoring Children in Kiev, Ukraine
In Partnership With Ezra International
Rescuing and Restoring Children in Kiev, Ukraine
In Partnership with Ezra International
We are a Christian non-profit rescuing and restoring abused and neglected, or abandoned, children in Kiev, Ukraine.
In Ukraine drug and alcohol abuse is rampant, with the resulting abuse and neglect of children. Social services are inadequate. In 1998 Ezra began a street feeding program and today we have a Child Rescue Mobile Unit. Our Unit has a staff of Christian, Ukrainian professionals, is the only one of its kind in Ukraine and is backed by the Police. Also, Ukraine Social Services refers many of its cases to our Unit. We believe in working collectively in the restoration of children and families and have partnerships we work closely in tandem with.
In 2011, we began our Mobile Unit and are the only one of its kind in Ukraine. The Unit is a professional intervention working in impoverished neighborhoods in 6 of the 10 districts of Kiev.   We have Police backing and Social Services refer cases to us. Our staff includes social workers, child psychologist and Vera, who heads up the Unit, has a law degree which is invaluable in advocating for children in the courts.
The Unit responds 24/7 to calls on their "hot line" reporting child abuse and neglect. These calls come from such sources as relatives or neighbors.  One of our drivers always accompanies the Unit staff to the home for safety. Often conditions are shocking. If children are in immediate danger, Police will be called to remove them. Ultimately, it is best if a family unit can be restored. However, there are cases where parents refuse to go to drug/alcohol rehabilitation or to make their places inhabitable and to take proper care of their children. In such cases, the children are removed and eventually the parents legally lose their parental rights. In other cases, children are removed for a period of time – our Unit tries to place children in Christian living situations – and when the parents have shown they have changed, the children can be returned home, with regular home visits from our social workers.
We also provide humanitarian aid in the form of medication and basic food packages to very poor families. The Unit has a case load of around 300 families at any one time. Many of these very vulnerable children would have had no protection or help without our Unit.
Click image to scale up/slide show.
"Life at 100%" Rehabilitation House
Lena, our Ezra Child Rescue Mobile Unit psychologist, started this home and we partner with her. The home is a two hour drive from Kiev.
What is unique is that it is for mothers who are drug or/and alcohol addicted and they are able to have their younger children live there with them, keeping the family unit together. It is like a home for a very large family and there are usually around 9 mothers and 15 children living there. The mothers, while going through rehabilitation, work in the house or do work in the fields.  There is a nearby school. The children have suffered a lot in their young lives and thrive while living at the home. The mothers also learn parenting skills.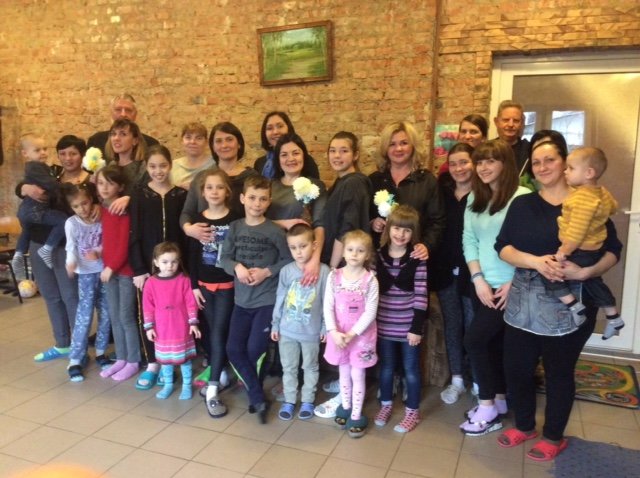 "Achieve" After School Program
Ezra partners with an after school program created for children from crisis families our Child Rescue Mobile Unit works with. It is open 5 days a week, 3 to 9pm. About 30 children come to this welcoming, happy, family-like program. It is named "Achieve" because the children are shown a different path to that of their parents – that they have abilities and potential, to do their best at school, to dream, and to use their time productively. They are loved and encouraged as they take part in classes such as dance, music, English, singing, and crafts. Also, they put on concerts for their parents, take part in dance competitions, go on picnics and in the summer go to camp.
Summer camps are very important for children in crisis families to get a break from their family situations and to enjoy being children and having their needs met.
Helping Children in the War Zone
This is a new work we are partnering with. Though we never hear about it in the news now, fighting has continued unabated in the war zone in eastern Ukraine. Nearly every night there is shelling and shooting by snipers who are Russian-backed rebels. How traumatizing this is for children! There has been no help available for children in dealing with what they are experiencing. Natasha, who used to be a psychologist in our Child Rescue Mobile Unit, has been doing trips to the area taking with her specialists in art therapy and in dealing with trauma. They have been training school teachers in three schools on how to help these children. Each trip there they take as much humanitarian aid as they can carry. Natasha's goal is to set up an after school program like "Achieve."
News updates from Ukraine Child Rescue.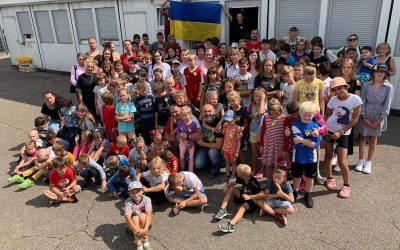 Hi everyone - at last, steps forward to report! Our daughter, Sarah, and her family were just with Father's House in Freiburg for a few days  and spent a lot of time with children and also with Roma and family so I have first-hand news too.  Below is a link with...
read more
Ezra International is a 501(c)(3) tax-exempt organization.
Donations and contributions are tax deductible as allowed by law. Uniform Disclosure Statement
Uniquely, 100% of our proceeds go to the Ukraine children's work without any money taken out for overhead costs.
Ways you can help
Help send a child from a crisis family to summer camp for two weeks (total cost around $150 per child including transportation)
Art materials, humanitarian supplies and

 

travel costs for trips into the War Zone to work with traumatized children ($250 per trip)
Help sponsor a child at Father's House for $30/month – you will be given the name of a child and opportunities to write to them
"General" donation to our programs. There is no limit to the number of children in dire need, and we want to be able to help more children.